To market a brand new thing, show how you do old things better because right now, nobody cares about that brand new thing.

@cdixon wrote – Doing old things better vs doing brand new things.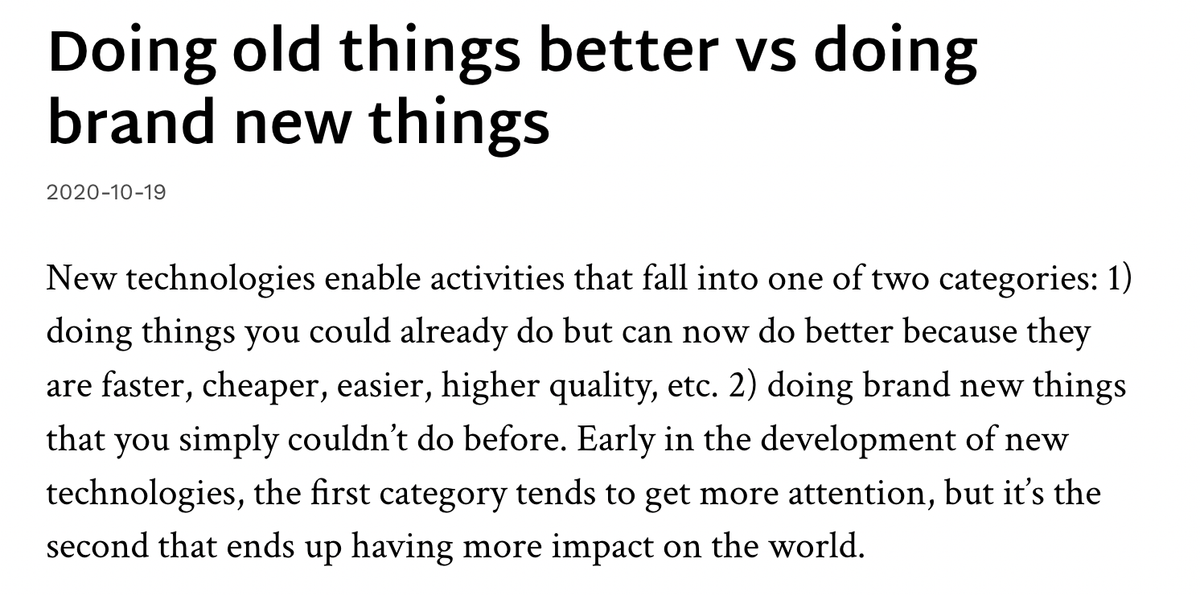 @usebraintrust is the perfect example. It is a decentralized talent network that connects top knowledge workers with the world's most reputable brands. Basically, it matches real people with real jobs.
It is the fastest-growing web3 business. You can watch their growth on this public dashboard – https://info.app.usebraintrust.com/
It's decentralized. User-owned. Has its own token. That's cool.
But that's not how they got to work with top talent & top brands like @Nike, @GoldmanSachs, @Twitter & @Spotify.
On the podcast, @adamjacksonsf said – "They don't care."
People just want great jobs and brands just want to hire top talent, fast.
For talent, web2 marketplaces take 20-50% of their earnings.
Braintrust allows talent to keep 100% of it.
Now, where do you think will top talent go – a platform where they keep 100% of the earnings or only 50%?
For them, Braintrust is a no-brainer.
So a lot of great talent flocked to this brand-new platform.
They didn't care about the BTRST token and how it works.
They didn't care about the blockchain, cryptocurrency, the tokenomics & the voting system.
Now if top talent is moving to a platform called Braintrust, guess where will brands go? Most of the reputable brands today have job listings on this brand-new platform.
Agencies mark up talent 60-70%.
With Braintrust, brands only pay a flat 10% fee.
Braintrust has a high density of top talent. Brands can hire faster & cheaper.
For them too, Braintrust is a no-brainer.
In the backend, Braintrust is converting client fees to BTRST token, that goes into the DAO fund to run community programs and grow the network. But users don't need to know that.
All the complexity of this brand new thing is abstracted to focus on showing users how they do old things better – because nobody cares about the brand new thing.
If you liked it, leave your comments here!